Stonehage Channel Islands Hobie Cat Championships - Overall
Testing conditions greeted the 56 crew on the first day of racing in the strong turnout of 28 Hobie Cats competing in this year's Channel Islands Hobie Cat Championships organised by the Royal Channel Islands Yacht Club. With a westerly wind gusting to 27 knots throwing up a choppy sea, there was lots of action in the 3 races programmed for the Saturday in St. Aubin's bay.
The highest turnout was in the Hobie 16 'A' and 'B' Fleet class with 17 boats competing for the trophies. The Hobie 18ft Tiger and Wildcat class saw Jersey and Guernsey crews performing well on their powerful multihulls in the tough conditions.
Due to the strong wind the Junior Hobie Dragoons crews were unable race on the first day and several of the Hobie 16 'B' Fleet retired after some spectacular capsizes. Sundays sailing conditions couldn't have been more perfect for the 3 morning races, a steady force four north westerly wind direction flattened the sea and allowed all classes to double trapeze and sail fast on the long tactical courses set by Race Officers Tony Eggleston and Mike Winspear.
HOBIE 16 'A' FLEET CLASS
Grant Neale and Karen Larose set the pace in Saturdays racing, posting two firsts and a second. Gordon Burgis and crew Kenny Snell suffered rigging failures as did Alex Ohlsson sailing with Rachel Smith, setting both contenders back in the cut and thrust of the Hobie 16's racing. Stuart Mc Cue with crew Lauren were also in the running with a good set of results after the first day, they won the first race on Saturday. Burgis and Snell had to settle for second place in spite of pulling out all the stops and winning the 3 races on Sunday, they couldn't catch Neale and Larose who sailed the percentages and covered well to win the coveted Hobie 16 Trophy by one point from the veteran team. Mc Cue sailing with Morgane Bitan on Sunday came third, again by the close margin of one point from Ohlsson in fourth place crewed by Aaron Le Cornu for the second days racing. Jeremy Smith and Sandrine Swetenham sailed well in their first Championships together to come fifth overall in the class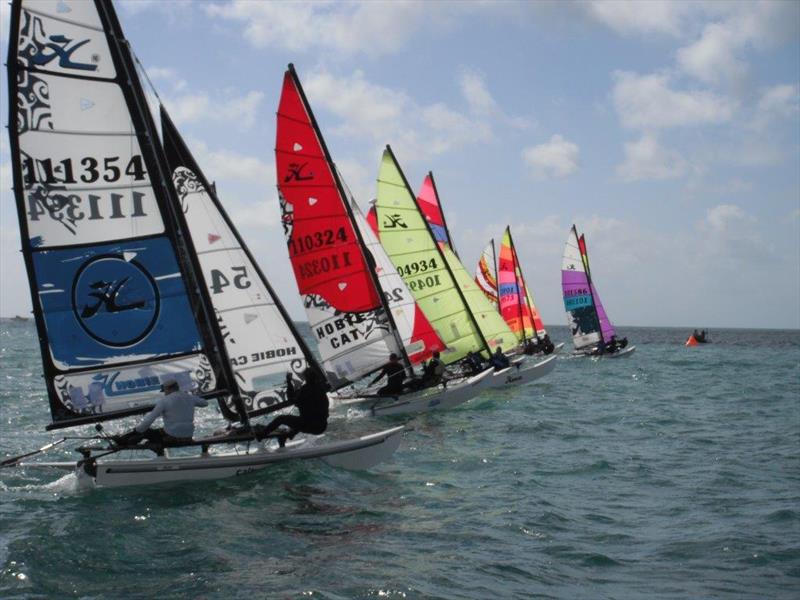 HOBIE 16 'B' FLEET CLASS
Due to the strong conditions on Saturday and retirements, the Hobie 16 'B' Fleets competition really came alive in Sunday's excellent conditions. The stand out team were Harry Smith and David Elgie who sailed into good positions to take a well deserved first place from youth crew Brodie Flambard and Joshua Voak in second who handled the conditions with good boat handling skills. In third place were brothers Russell and Darren Boschat a relatively beginner crew sailing a first major event together and relishing their top 3 position.
HOBIE TIGER & WILDCAT CLASS
Guernsey team Benn Garnham and Jamie Hamilton had sailed from Guernsey to Jersey in an exceptionally fast time of 1hr 54mins on their Hobie Tiger on the Friday afternoon, It didn't stop there for them, their fast and tactical sailing around the race course on Saturday and Sunday with 5 counting first places sealed an impressive victory for the Sarnian crew. Adrian Jesson and Bruce Steedman were the best of the Jersey crews with a worthy second, scoring their best points in Saturdays heavier conditions. Andy Hart crewed by Steve Manning sailed well together for the first time to come a credible third. Darren Stower with Grant Hamilton suffered a spectacular flying pitch pole when they were finishing ahead of the pack in Saturdays first race of the day, the consequent damaged suffered meant they couldn't complete the days races, however they reappeared on Sunday morning and performed well to take three second places behind Garnham and Hamilton giving them fourth in the class.
JUNIOR HOBIE DRAGOON CLASS
The Junior crews completed four races on the Sunday for their Championship positions enjoying close and competitive sailing. Leo Marshall was crewed by Arthur Carey, two firsts helped them cement a deserving win in the Dragoon class. Ollie Voak and Benjamin Voak were just two points off the winners, placing a deserving second in spite of bad result in the first race. The all girl team of Emma Graham and Elsa Swetenham had some great starts and sailed consistently well to place third.
The prizegiving presentation was held at the RCIYC on Sunday evening where thanks were given to the race team, safety boat crews, the beach team and also to the Stonehage Group for their valued sponsorship of another successful Hobie Cat Championships now in its 24th year.
HOBIE 16 'A' FLEET CLASS
1st Grant Neale & Karen Larose
2nd Gordon Burgis & Kenny Snell
3rd Stuart Mc Cue & Lauren/Morgane Bitan
4th Alex Ohlsson & Rachel Smith/ Aaron Le Cornu
5th Jeremy Smith & Sandrine Swetenham
6th Luc Richard and Rachel Wijsmuller
HOBIE 16 'B' FLEET CLASS
1st Harry Smith & David Elgie
2nd Brodie Flambard & Joshua Voak
3rd Russell & Darren Boschat
HOBIE TIGER & WILDCAT CLASS
1st Benn Garnham & Jamie Hamilton (Gsy)
2nd Adrian Jesson & Bruce Steedman
3rd Andy Hart & Steve Manning
4th Darren Stower & Grant Hamilton
5th Rob Moy and Mick Doleman
JUNIOR HOBIE DRAGOONS
1st Leo Marshall & Arthur Carey
2nd Ollie Voak and Benjamin Voak
3rd Emma Graham & Elsa Swetenham
4th Chloe Swetenham & Megan Newstead
5th Gemma Newman & Alice Newstead
6th Declan Flambard & Emma Blake
HOBIE 16 MASTERS PRIZE
Grant Neale & Karen La Rose
HOBIE 16 WOMENS PRIZE
Yvonne Winspear & Malin Nilsson
HOBIE 16 YOUTH CREW PRIZE
Lucy Chapman & Meredith Richards